---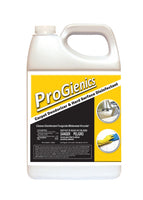 ProGienics Concentrated Carpet Deodorizer and Hard Surface Disinfectant is a highly effective product that can be used in industrial, institutional, commercial areas such as motels, hotel chains, movie theaters, nursing homes or hospitals.
*Kills Pandemic 2009 H1N1 Influenza A Virus formerly called swine flu
Carpet Cleaner & Deodorizer
Deodorize upholstery, draperies and other porous materials
Water & Smoke Damage Restoration
Clean & Disinfect hard nonporous surfaces
Control Mold & Mildew
Economical Concentrate
PROGIENICS Carpet Deodorizer and Hard Surface Disinfectant IS EFFECTIVE AGAINST THE FOLLOWING:
Acinelobactor baumannii, Bordetella bronchispetica, Campylobacter jejuni, Enterococcus faecalis, Escherichia coli 0157:H7,
Vancomycin Resistant Enterococcus faecalis (VRE), Escherinchia coli, Klebsiella pneumoniea, Listeria monocytogenes,
Pseudomonas aeruginosa, Salmonella enterica, Shigella dysenteriae, Staphylococcus aureus, Community associated Methicillin-resistant Staphylococcus aureus CA MRSA, Staphylococcus aureus Methicillin resistant, Vancomycin Intermediate resistant Staphylococcus aureus VISA, Streptococcus salivarius, Avian Influenza A H5N1 virus, Avian Influenza A H9N2/Turkey/Wisconsin virus, Hepatitis B Virus (HBV), Hepatitis C Virus (HCV), Herpes Simples virus Type 1, Human Coronavirus, Influenza
A2/Japan virus, Influenza A H1N1 virus, Norovirus Norwalk-like virus,HIV-1 and more……….
*USE PROGIENICS TO CONTROL MOLD & MILDEW: Use this product to control the growth of mold and mildew and their odors on hard, nonporous surfaces.
Add 2 ounces per gallon of water.
Center for Disease Control & Prevention Recommendations
Clean
MAINTAIN SAFE PRACTICES such as frequent handwashing, wearing masks, and staying home if you are sick.
CONTINUE PRACTICES THAT REDUCE THE POTENTIAL FOR EXPOSURE.
Maintain social distancing, staying six feet away from others. Reduce sharing of common spaces and frequently touched objects.
Wear disposable gloves

 

to clean and disinfect and discard after use or use reusable gloves that are dedicated only for cleaning and disinfecting. Always

 

wash hands

 

after removing gloves.
Clean any dirty surfaces using soap and water first, then use disinfectant.
Cleaning with soap and water

 

reduces the number of germs, dirt, and impurities

 

on the surface.

 

Disinfecting kills any remaining germs

 

on surfaces, which further reduces any risk of spreading infection.

Practice routine cleaning

 

and disinfection of frequently touched surfaces. More frequent cleaning and disinfection may be required based on level of use.
Surfaces and objects in public places, such as shopping carts, point of sale keypads, pens, counters, vending machines, and ATMs should be cleaned and disinfected before each use or as much as possible.
Other

 

high touch surfaces include:

 

Tables, doorknobs, light switches, countertops, handles, desks, phones, keyboards, toilets, faucets, sinks.
Disinfect
Disinfect with a disinfectant on

 

EPA List N: Disinfectants for Coronavirus (COVID-19). Follow the instructions on the label to ensure safe and effective use of the product. Many products recommend:

Keeping surface wet with disinfectant for a period of time (see product label).
Precautions such as wearing gloves and making sure you have good

 

ventilation

 

while using the product.
Use chemical disinfectants safely! Always read and follow the directions on the label of cleaning and disinfection products to ensure safe and effective use.
Wear gloves and consider glasses or goggles for potential splash hazards to eyes
Ensure adequate ventilation (for example, open windows)
Use only the amount recommended on the label
Use water at room temperature for dilution (unless stated otherwise on the label)
Label diluted cleaning solutions
Store and use chemicals out of the reach of children and pets
Do not mix products or chemicals
Do not eat, drink, breathe, or inject cleaning and disinfection products into your body or apply directly to your skin as they can cause serious harm
Do not wipe or bathe pets with any cleaning and disinfection products.