---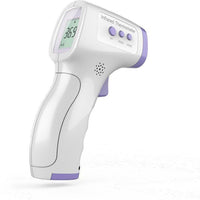 Protect patients, family, and small businesses with the MF-81 Infrared Forehead Thermometer. This thermometer is perfect for a low traffic setting, household, or healthcare office. This non-contact temperature scanner detects a person's temperature from about an inch away from their forehead, eliminating the need for contact and potential spreading of germs and illness.
Non-Contact Measuring:

 

no physical contact to prevent cross-infection and also allows for the patient to rest without being bothered during their recovery.

Quick and Accurate:

 

high-precision infrared sensors read temperatures in under a second.

Easy to Use:

 

this unit uses AAA batteries and is simple to use and easy to read on the digital LCD screen.

Product does not include batteries.


Shop now at our e-commerce store, Yates Protect, or contact us for a bulk order.
Product Specs
Measurement Mode: Forehead mode
Measurement Distance: 0-30mm
Measurement Range: 89.6F ~ 107.96F
Voltage Source: 2 x 1.5v; Battery size AAA
Memory: Previous temperature record
Display Screen: Backlit large screen
Automatic Power Off 30 sec
Dimension: 150mm* 95mm*45mm
Weight: 146.8g
1 Piece
Center for Disease Control & Prevention Recommendations
Fever
CDC considers a person to have a fever when he or she has a measured temperature of 100.4° F (38° C) or greater, or feels warm to the touch, or gives a history of feeling feverish.Note: Even though measured temperature is the preferred and most accurate method to determine fever, it is not always possible to take a person's temperature. In certain situations, other methods of detecting a possible fever should be considered:

self-reported history of feeling feverish when a thermometer is not available or the ill person has taken medication that would lower the measured temperature.
the person feels warm to the touch
appearance of a flushed face, glassy eyes, or chills if it is not feasible to touch the person or if the person does not report feeling feverish.
The presence of fever suggests an infectious cause, but fever is not always present with an infection.
Prevent and Reduce Transmission Among Employees
Monitor federal, state, and local public health communications about COVID-19 regulations, guidance, and recommendations and ensure that workers have access to that information. Frequently check the CDC COVID-19 website.
Actively encourage sick employees to stay home
Consider conducting daily in-person or virtual health checks (e.g., symptom and temperature screening) of employees before they enter the facility, in accordance with state and local public health authorities and, if available, your occupational health services. Screening and health checks are not a replacement for other protective measures such as social distancing, mask wearing (unless respirators or face masks are required), and engineering controls, including proper ventilation. Symptom and temperature screening cannot identify people with SARS-CoV-2 infection who are asymptomatic (do not have symptoms) or are presymptomatic (have not developed signs or symptoms yet but will later).
For in-person health checks, conduct them safely and respectfully and in a way that maintains social distancing of workers in and entering the screening area. Workers should not enter the worksite past the screening area if any of the following are present:
Symptoms

 

of COVID-19
Fever of 100.4 degrees Fahrenheit (oF) or higher or report feeling feverish
Undergoing evaluation for SARS-CoV-2 infection (such as pending

 

viral test)
Diagnosis of SARS-CoV-2 infection in the prior 10 days
Close contact

 

to someone with SARS-CoV-2 infection during the prior 14 days