---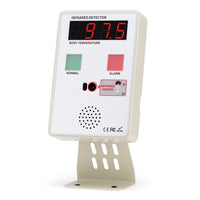 Sale
The Y-530 Mini Thermal Detector detects human body surface temperature from a safe distance without physical contact. This method can help prevent the spread of infectious diseases such as COVID-19. The unique detector uses the highest quality and most precise temperature sensor on the market today.
In addition to a green light signifying in-range temperatures and a red light indicating out-of-range body temperatures, this system also uses voice warnings. These voice warnings can be customized to your desired language. Our high-quality temperature sensor integrates into walk through metal detectors, ordinary doors, intelligent access control systems, disinfection equipment, and other equipment that uses temperature measurement functions.
No one should go to work with a fever. Help prevent the spread of illness in the workplace.
Product Features
Quick screening
Non-contact temperature measurement
Voice alarm
Visual notification ambient
Application environment
Panel display
Prevents false alarms due to high temperatures
Product Specs
Shipping weight: Approx. 2.2 lbs.
Product weight: 1.3 lbs.
Power consumption: <8W
Working temperature: 14°~104° F
Operating humidity: 95%
Power supply: AC 100-240V, 50/60Hz
Working voltage: 12V
Temperature measurement speed: <1 second
Temperature measurement accuracy: ± 0.3
Temperature measurement distance: 0.4–7.9 in
Product size: 6.5 X 4.5 X 1.3 inches (excluding bracket and power adapter)
Center for Disease Control & Prevention Recommendations
Fever
CDC considers a person to have a fever when he or she has a measured temperature of 100.4° F (38° C) or greater, or feels warm to the touch, or gives a history of feeling feverish.Note: Even though measured temperature is the preferred and most accurate method to determine fever, it is not always possible to take a person's temperature. In certain situations, other methods of detecting a possible fever should be considered:

self-reported history of feeling feverish when a thermometer is not available or the ill person has taken medication that would lower the measured temperature.
the person feels warm to the touch
appearance of a flushed face, glassy eyes, or chills if it is not feasible to touch the person or if the person does not report feeling feverish.
The presence of fever suggests an infectious cause, but fever is not always present with an infection.
Prevent and Reduce Transmission Among Employees
Monitor federal, state, and local public health communications about COVID-19 regulations, guidance, and recommendations and ensure that workers have access to that information. Frequently check the CDC COVID-19 website.
Actively encourage sick employees to stay home
Consider conducting daily in-person or virtual health checks (e.g., symptom and temperature screening) of employees before they enter the facility, in accordance with state and local public health authorities and, if available, your occupational health services. Screening and health checks are not a replacement for other protective measures such as social distancing, mask wearing (unless respirators or face masks are required), and engineering controls, including proper ventilation. Symptom and temperature screening cannot identify people with SARS-CoV-2 infection who are asymptomatic (do not have symptoms) or are presymptomatic (have not developed signs or symptoms yet but will later).
For in-person health checks, conduct them safely and respectfully and in a way that maintains social distancing of workers in and entering the screening area. Workers should not enter the worksite past the screening area if any of the following are present:
Symptoms

 

of COVID-19
Fever of 100.4 degrees Fahrenheit (oF) or higher or report feeling feverish
Undergoing evaluation for SARS-CoV-2 infection (such as pending

 

viral test)
Diagnosis of SARS-CoV-2 infection in the prior 10 days
Close contact

 

to someone with SARS-CoV-2 infection during the prior 14 days